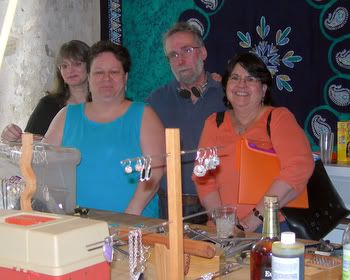 This Saturday was it!
A bunch of us trekked to Rina's studio this past Saturday in PA. What fun! First, Rina has a GREAT space - in an old mill type building - she rents a large room with 3 other women. There is a HUGE square table right in the middle...a little higher than waist high I guess. Enough space on each side for someone to work VERY comfortable - on all four sides - bench pins installed. So cool. Then around the edges of the room are 'stations' such as a soldering bench, a flexshaft table.....an anvil and a vise in another corner. Two HUGE windows that open to let air in (ventilation) -- HIGH ceilings. Jut a really nice space.
Everyone brought some food or drink....so we had a big spread and never had to stop all day - we just nibbled as we did our thing.
I got there about 10:40am (from MD) and was greeted by Rina and Angela (from NY). Shortly thereafter Gary arrived from Jersey. YAY! What fun! We hung out chatting and showing some of our work we brought with us -- then we (finally) got started on some flush setting! YAY (what fun!) Gary walked me through the first one and then I did one on my own - though I couldn't get the stone to stay in (big flaw 'eh?) I still felt it was a success. He did the final set on the second one for me -- but I feel like I have the idea down. Lisa (also from PA) showed up (finally!) during the flush setting part and then it was just talking and show and tell and eating and laughing and talking and some demos and talking and talking and talking.....Lots of talking.
More talking than demo-ing or making really -- but I think we were all really happy with that. It was just so cool to connect with these people that I have grown so fond of online - to meet them face to face - YAY! How fun! (anyone wanna smack me yet) lol
Rina is a great host - gracious with her space and time. Gary is a WEALTH of freakin' knowledge - he's da' man! Lisa is just -- well Lisa - fun and chatty and extremely generous. Angela brings a definite grounding and real creative flair.
All in all it was a great day - it could only have been better if Angela could have stayed longer and maybe a few more people could have come. Ooooooooooh, and if my car wold have started when I left. Another story for another day
Ohh and we met Linda, one of Rina's studio mates. That woman can be described in one word - spitfire. She's a little dynamo. Truly. And couldn't be nicer. Ooooooooo, and we met Rina's hubby. Who took it all in stride and was a GEM to help (with everyone else) in getting my car restarted.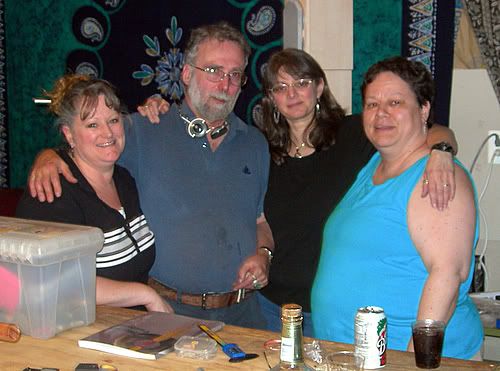 A BIG thanks to all of them!
~Janice