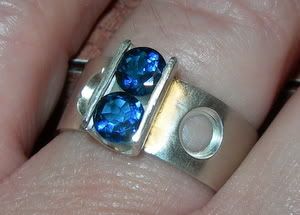 I finally did it.
I tried my hand at channel setting.
Although I've never seen it done in person, I went by some instructions from a book and got to work.
I didn't follow all the directions completely. Yes, I know - no surprise. I have a hard time with directions. The instructions used a file to 'carve' the channel, I used a hart bur which I've read in other instructions. I'm not sure how I would have gotten a file in there anyway - even my rifler files seemed too big. So with my hart bur I clumsily grooved out a channel for the stones to sit in.
I fiddled and worried the metal a bit - but believe it or not - the stones are set!
More work to be done: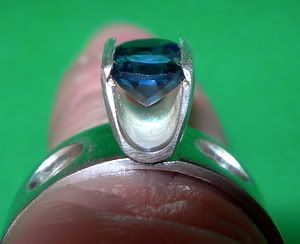 The entire ring needs to be sanded and polished.
The two stones that were meant to be flush set didn't work out, so I have two kind of cool beveled holes on the shank.
The seat is too high, I might remove the stones and file down the top of the seat and then cut a new for the stones.