I've been holed up at home much of the past couple of weeks with a tooth that needed to come out but apparently was quite secure staying where it was....which ended up causing me a fair amount of grief and pain. In between trips to the dentist and oral surgeon, bouts of bedrest, and intermittent pain-med-induced-incoherence-dizziness-and nausea.....I managed to grab a few clear headed moments here and there to work on this pendant.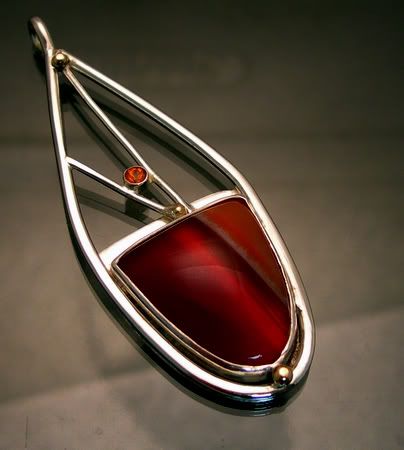 This pendant was truly done in tiny snatches of time and amazingly it ended up working out well. Maybe its a lesson in 'slow is the way to go'. I have always known that I rush things and in doing so I cause myself more work or to just give up on a piece. Setting it down and allowing it to just 'be' and then coming back and working in stages really allowed me to focus on each stage or step.

I am hoping to begin taking more time and really working through each step from now on in order to have truly clean pieces.

I have received a lot of comments about the photo itself. This was taken in my traditional 'photo box' which is a plastic container turned on its side. I cover that with paper towels to help diffuse the light. In this picture I used a VSH cassette tape box and a piece of raised glass (I raised the glass with two pop of lids from disposable propane canisters). And used no flash.
The only downside to this photo is that it doesn't show the more mellow colors on the right side of the pendant, the overall photo is a bit dark. The right upper corner of the pendant is a mellow light orange, then a whitish stripe, then the rest of the stone is a yummy translucent red.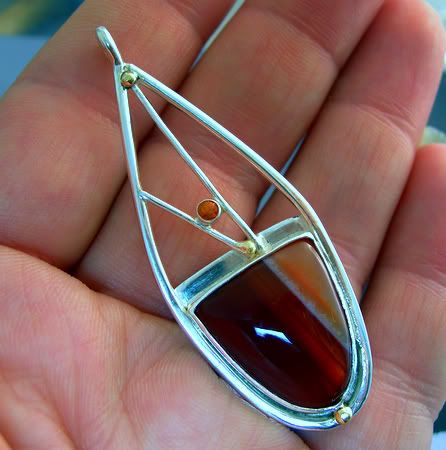 In this photo you will see a not quite as flattering version, but the color of the stone comes out better. Partly it is the lighting and partly the angle which the photo was taken.
The pendant is sterling, 14k gold, agate, and (I think) a faceted orange sapphire.
~Janice