.........and this is the proof.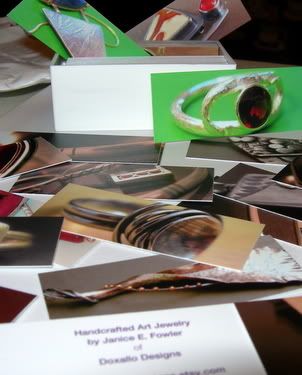 These are my new 'calling cards' which I can leave with anyone anywhere!
They are pint sized and pack a punch! The front has a cropped image of a piece of my jewelry and the back has my contact info.
I had found these on another blog (wish I could remember who) a long time ago and have been wanting to order some for myself. Well,I finally did and I am THRILLED!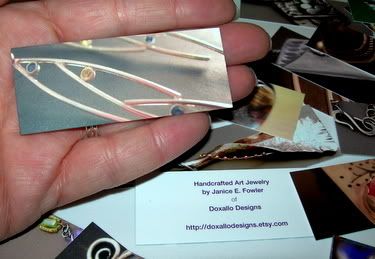 See how small they are?
They were so economical and easy to create! They shipped and arrived REALLY fast too.
The company is MOO. You can find them at, where else but......moo.com :-)
AND - I've been thinking of doing a giveaway - other people have and it inspired me to do one. Now I am wondering if someone would want an order of MOO cards - compliments of moi'?
What do you think - is that a good giveaway? The winner could either send me their snapshots and text and I'll mock them up, pay for the order and have it shipped to the winner...OR, they could go in and mock up their own - and then I'll order and pay and have it shipped.
Give me some feedback please - what do you all think? Good giveaway or not so hot? Should I just stick to a piece of jewelry......?
~Janice