I have been saying I made these weird little earrings -- and they are weird, but actually I rather like them.
They are from my new 'bumpy' series.....but I need a better name. 'Bumpy' just doesn't cut it and although I like 'warts' I'm not sure thats a good marketing name. ;-)
I have had trouble photographing them which is why I hadn't posted them, but I'm tired of trying to get a good photo, so this will have to do.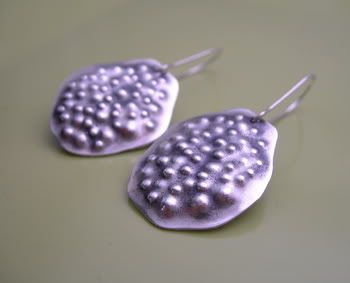 These are hand chased sterling with oxidation.
The earwires are really long so they hang down quite low. I think I will shorten them a bit. . . but I like the idea of having an earwire that is a little longer.
I have another pair that isn't domed, they are flatter and they are cut out around the edges of the bumps. I don't like those as much as I like these. I have many more bumpy pieces in mind. Its a fun technique and its quick, which I love - instant gratification! YAY!
Some of you have asked about the whole eating raw thing.
I don't have a juicer. Well, thats not exactly true. I have a juicer. Somewhere. Your guess is as good as mine as to where. Really. OK, my guess might be minimally better, but thats about it. And it wasn't expensive, just a Juicemanjuicer kind of thing...under 50.00 bucks, but that was a dozen years ago -- it looks like this one:
http://www.builderssquare.com/xp_196879-Juiceman_JM1_Jr_Juice_Extractor.aspx
but since I have NO idea where it is, I may buy another. Juicing is part of eating raw, but just a part. So far my days consist of lots of raw fruit and veggies. Sometimes with a little oil and vinegar over them or fresh lemon juice. Last night I discovered my mother's quisanart food processor, I've never used one before! I used it to julienne a yellow squash and a zuccini squash. I dried the squash on paper towels, then put them in a bowl with grated carrot and chopped scallions. I made a dressing of soy, chili pepper oil, rice wine vinegar and then tossed in a handful of flax seeds and a few pine nuts. It was SO good! I've been eating salads with lots of fresh greens and little or no dressing.
At night, for a snack, I blend a cupof soy milk with some frozen fresh fruit. I've cut up bananas, strawberries, and peaches and froze the pieces in singlelayers on baking sheets. When frozen just dump into bags and keep in freezer for a month or so. When you want them, just pull out and grab a handful! With the soymilk in the blender it makes a GREAT smoothie!
There are recipe books out there, that get VERY creative with raw foods - making 'meatballs' and all sorts of things. ALL the raw food books at my library were checked out, AND had 4 or 5 holds on them already, so this weekend I will be off to the bookstore. Well, in between my workshops with.......................
DAVID HUANG.
Yep, you hear me. (read me?)
*heart* I heart his work so much and can't WAIT for this class! *heart*
Ohhhh, today is FF day. Sorry - I guess a fave of mine is David's work....breathtaking.
That's it for now! TTYL!
Janice